I have always had a love affair with Art Deco styling. Ever since I took a class in college titled "The History of Decorative Arts" (which should have been titled the History of Interior Design), I have loved Deco. I swooned when I went to the Victoria and Albert Museum in London and saw their collection of Art Deco furniture.
So you can imagine how happy I am now that the Great Gatsby has finally arrived and with it all of its Deco/Flapper trends starting which are now starting to seep into fashion and home design. All the pattern and glitz has got me thinking. Could deco have a place in our new pad?
For those of you out there who may not know what Deco style is, or for those who may need or want a refresher Art Deco or Deco for short is a style that came about in Paris in the 20's and remained in fashion world wide through the 20's and 30's. Deco as a style usually means bold geometric patterns, rich color and heavy ornamentation. Think black, white and gold with some mirror shine. You can see its influence in almost anything visual

Architecture:
The Chrysler Building, NYC. One of the most famous examples of Deco architecture.
Deco Fashion then: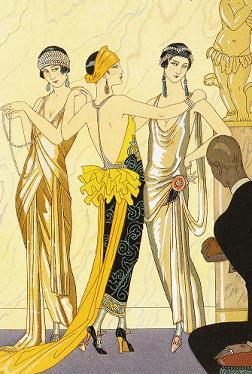 Love this image! Even the style of drawing exemplifies Deco style.
Deco Fashion now:
Monique Lhuillier Art Deco inspired gown
Jewelry:
How stunning is this diamond and emerald ring??!
Furniture:
1930's Parchment Sleigh Bed.
Um, dying over this!
Lighting:
Glass Tulip Sconces. How fabulous would these look over my mantle?!
Wallpaper:
Classic Deco: black, gold, fan motif.
Enough with the history lesson!
SO can this play a part in our "new house design? Its got me to thinking...I've been wanting (obsessing) about a chevron "wood" ceramic floor in the master bath like this:
But now I'm wondering "is this just too IN right now?" That and all this Deco has got my brain a workin!
Maybe I should just have this:
Stunning perfection, but really, so out of my price range! Take a second look at those cabinets though, drooling...
This, however, could be doable. Subway tile in a running bond (otherwise known as an offset brick) with some fabulous deco inspired wallpaper or treatment.
Maybe something like this:
or this:
A bit on the Art Nouveau side, but I love me some art Nouveau as well!
or maybe this: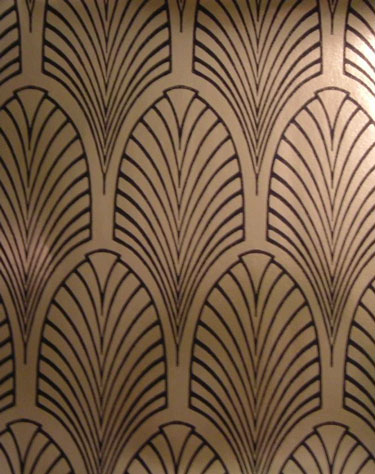 Keep coming back to the fan design.


Just too many to choose from! I'm thinking that fabulous stepped door design might have to somehow be incorporated as well.
That's all for now! Check back soon, I'll probably have changed my mind, again, on what to do.