Hello from renoland!
The craziness has now moved inside! This weekend we moved our son into our room so that on Monday the guys could begin to demo his room.
This is what the space looked like when we bought it:
The previous owners had enlarged a closet to fit the washer and dryer. Which is where it has been since we moved in April. Laundry time had to be restricted to during the day when Samson either wasn't home or napping. Not ideal to say the least.
We made room as cozy as we could for the time being.
Sorry for the blurry picture - but its all I had of the space before. That's Sammy playing with my 87 year old grandma!
So this is what the room looks like now;
This area with the floor intact will become the hallway to the new bedrooms
A view into our future bedroom.
Hopefully the framing, electrical and plumbing will progress smoothly (and quickly) after the holiday so that we can get the spray foam people in. This room - which becomes our master bath - is open to the addition - which although sided - has no insulation. The whole back of the house is freezing! Makes me a bit nervous with the record low temps that are being predicted for the weekend.
The gutting of this room has forced me into decision making mode. A problem for me, and I think, for a lot of designers out there. It is SO much easier help clients make decisions than to have to make one for myself. BUT the plumber needs to get started and we need the valves for the faucets and shower fixtures. So plowing forward I am!
My general design scheme for the bathroom is classic with a twist. I am envisioning whites, grays and blacks with some warm woods, a mix of metals and a fun twist (to be revealed later).
These are some of my inspiration images:
Love the floor detail, and all that white with the warmth of the wood.
LOVE the gold fixtures here!

So onto plumbing fixtures. I am obsessed with the idea of wall mount faucets and a skirted toilet. I am trying to make that work whatever way possible.


In my dreams - and my dreams just don't match my pocketbook - I would have these fixtures from Kohler:
This is their Purist fixture in Vibrant Modern Brushed Gold. Isn't it stunning? Sigh...
But those just aren't an option right now. So I've been on the hunt for something more affordable for us. I am determined to have wall mount - just love the cleanliness of it and since the walls are open we can do this. Word to the wise here - the faucets are generally sold as just TRIM - meaning only the pretty stuff. You also need to buy the specific valve for each faucet which can cost a pretty penny as well.
This is what I have found - at HomeDepot.com no less!
This is a faucet by Danze - a newer brand with a very reasonable price point. After I found it my husband chimed in and told me he'd prefer one handle versus two. Luckily Danze also has this:
I ordered one of each from
HomeDepot.com
and I'm not unimpressed by the quality. I still want my plumber to see them before I pull the trigger though.
My plumber really likes Symmons for valves and fixtures. They tend to be well made and also have a good price point. Luckily they have shower fixtures from their Dia line that look like this:
Pretty good match right?
So with those decisions out of the way - for the most part - kinda, sort of, but not really- I'm on to tile.
I know I want to do marble on the floor. I'm thinking 12 x 12's with an inset of something - probably a herringbone.
Something along these lines:

I really like the black mini mosaic tile framing the basket weave. I'm leaning more towards a chevron tile though - as that is one of my other obsessions.

If my pocketbook was a bit deeper I'd probably go with something like this: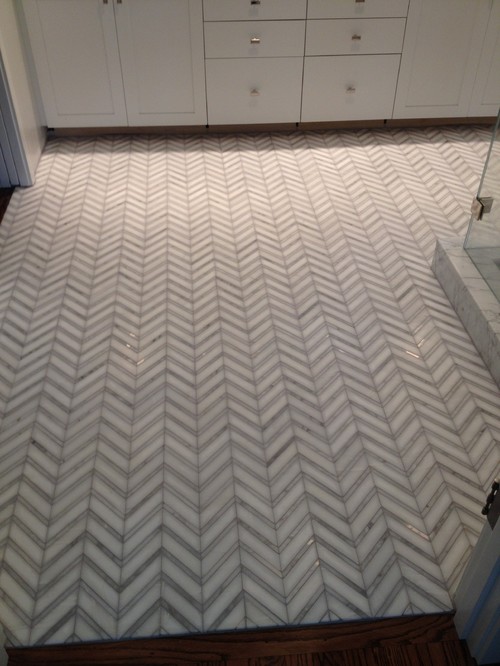 Stunning - right? So as that's not an option - I figure a herringbone in some form of white marble inset into a picture frame will have to feed my obsession - for now.
The shower will have a similar treatment - a decorative inset on the back wall - but with a surround of white subway tile instead of marble. Right now I'm coveting/obsessing a few of the lines from
New Ravenna
mosaics. Their designs are just plain OFF THE HOOK!
I mean really?! Just so stunning! But wait! I have other New Ravenna loves!
There's this:
And this:
And this:
So many beauties to choose from! Thankfully I'm still a little bit away from having to make this decision. I'm all decisioned out for now! For myself that is!!!